BBQ & Catering FAQs
We've been bbqing and catering since 2011
Frequently Asked Questions
BBQ & Catering
We're happy to answer any questions you have about our catering or BBQ restaurant.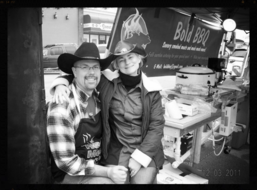 1. Is BOLD BBQ Licensed?
Yes, and we have a food manager's certification.
2. Is there refrigeration for outdoor events?
Yes, we have the capability to maintain safe temperatures and have a portable refrigerator with a generator if needed for your event.
3. What is the estimated cost per person?
The average price ranges between $11.50 to $16 per person depending upon menu choices.
4. What is included in your catering packages?
Main entrees, side dishes, limited beverages, paper products, setup and take down.  However, you can add on whatever you would like.  We will be happy to give you a quote! 
5. What is the staff/guest ratio?
2 servers per 60 guests are included in all packages.  Additional fee for parties over 60 for additional servers.  
6. Is the menu set or can it be modified?
Since we make everything from scratch, yes, we can modify the menu.  
7. Can we accommodate special dietary restrictions?
Yes, we can accommodate with gluten-free, pork-free, sugar-free, etc. menu options.
8. Do you carry liability insurance?
9. Are you able to serve beer/wine and/or liquor?
We can subcontract for this service and it is subject to additional fees.
10. How much advance notice is needed to confirm a reservation?
At least 30 days with a $100 deposit to secure your date and time.  We are growing fast and your date may not be available.  Please don't wait too long!
11. Can you arrange a tasting of foods on the menu?
12. Can you set up tables?
Yes.  Our packages include the setup of the buffet tables (food service items- not décor).  We can supply the tables/linens for the buffet if needed.  
13. What additional charges might be included other than food, beverages and rental of requested extras?
Sales tax, gratuity, over-time of staff.
14. What is the policy for payment and tipping?
$100.00 deposit due at time of booking, 50% of food cost, and 100% of any rental equipment costs due 30 days prior to the event, remaining amount due the day of the event.  We accept cash or credit card.
Gratuities are never included.  I am proud of my staff and the great service they provide to our clients. Please compensate them as you see fit!
15. How much time is needed to set up?
Approximately 2 hours based on the size of the party.
16. Will you send a confirmation including date, time, menu, and itemized statement?
Yes, it is very important that you are satisfied with your selections and everyone is on the same page!
17. How much food is enough?
For a catered event, generally at least 2 entrees and 2-3 side items would be adequate. Approximately 1/2 pound of meat with 8 ounces of side items per person is the general rule that we follow.
18. What if we go over the time period that we agreed upon?
There is a $100.00 per hour charge for any over-time service.
19. When do you need the final head count?
10 days prior to the event.
20. If I have to cancel my event for some reason, do I get back my deposit?
Deposits are non-refundable.
We will make every effort to change the reservation date if needed, just let us know ASAP.
If cancellation occurs within 7 days of the event, due to preparations already underway, no monies will be refunded.
21. Will you feed the photographers, musicians, or other hired staff?
If they are included in the head count, then yes.
22. What is the minimum number of guests?
For a Drop-off catered event, 30 guests minimum.
For a Full-Service catered event, 100 guests minimum.
23. What is the charge for delivering individual items if I don't want to order a catering package?
We offer free delivery for food-only orders (no service included) of $100 or more within a 20-mile radius of Wylie, Tx. There is a $10 charge for each 10-mile increment from Wylie, Tx. Please see the "Drop Off Catering" page or "Price List". We can assist with determining how much food you will need for your number of guests.
Let's BBQ!
Our place or yours?